Pupil Premium Funding
What is the Pupil Premium Funding?
Pupil Premium was introduced by the Department for Education (DfE) in 2011 as additional funding for pupils who receive Free School Meals (FSM) and who are Looked After Children (LAC). This is because the DfE recognise that good education is key to improving young people's life chances. Research has shown that this can be the case for children from low-income families, or who are Looked After Children, these children are far less likely to leave school with good GCSE results than their peers.
The Pupil Premium is a designated pot of money within the school budget which is used to provide extra resources or support to ensure that these children attain in line with their peers.
The Pupil Premium has also been introduced for children whose parents are currently serving in the armed forces. This money is designed to support the emotional and social well-being of these pupils.
How much is it?
There is a variance in funding for the different 'vulnerable groups'. £1300 is allocated for each child who receives Free School Meals and £300 for a child whose parents are serving in the armed forces.
It is up to the school to decide how best to spend the money allocated. During an inspection OFSTED will explore the impact of how the money has been spent.
How is the money being spent?
The staff continually track the progress of all children to ensure that we meet their differing needs. Any pupils who are risk of not making sufficient progress are identified and intervention strategies are put in place to 'close the gap'.
Children's learning may dip for a number of reasons; social and emotional well-being has a significant impact on a child's willingness and ability to learn. Therefore, a range of intervention strategies some of which focus on academic achievement and others designed to improve social/emotional well-being are used.
Below is a summary of the range of activities and interventions that Pupil Premium is used to fund. These include training, activities, intervention programmes and resources bought for a specific purpose:
Additional LSA support, either 1-1 or in smaller groups
Better Reading Partnership training
Emotional Literacy Support (ELSA) We have an LSA trained in providing emotional support and raising self esteem
Support from an Educational Psychologist
Books to engage reluctant readers
Induction and transition programmes
Afterschool club, school trip, holiday club financial support
Sports Premium Funding
What is the Sports Premium Funding?
In April 2013, the Government announced new funding of £150 million for physical education (PE) and sport. The purpose of this funding is to be used to further improve the quality and breadth of PE and sport provision. Schools are free to determine how best to use this funding to improve the quality and breadth of PE and sport provision, including increasing participation in PE and sport so that all pupils develop healthy lifestyles and reach the performance levels they are capable of.
How much is it?
Funding has been allocated to all maintained and state-funded schools with primary phase pupils. Each school will be given an £8000 lump sum plus an additional £5 per pupil (as recorded in the annual schools census in January)
This funding is ring-fenced and therefore can only be spent on provision of PE and sport in schools.
How is the money being spent?
Spending so far...
Trim Trail Installation
The physical opportunities we can offer our children are limited by the amount of space that we have available for sporting activity. The lack of a field forces us to be creative with the space that we have on our two playgrounds. A large proportion of the funding has been used to provide a trim trail on our top playground. The purpose of the trim trail is to promote physical activity during playtime and develop gross motor skills.
Research shows that there is a strong link between the development of gross motor skills and improvements in fine motor skills, specifically handwriting.
In order to be able to write...
The upper body must be strong enough to hold the body in an upright standing or sitting position.
The shoulders muscles must be strong enough to control the weight of the arm, and flexible enough to rotate freely to position the arm for writing.
The upper arm muscle needs to hold the weight of the lower arm and hand, delivering the hand to the page.
The lower arm should provide a sturdy base on which the wrist can rotate.
The wrist needs to be able to hold the hand steady and rotate to the appropriate position.
The fingers have to fold around the pencil which is held in place by the thumb.
Together, all five fingers do a precision dance on the page: a. placing the pencil at the exact angle to meet the page, b. pressing down and maintaining the right amount of pressure to leave the imprint, and c. coordinating the tiny up, down, left, and right movements across the page.
If any of those muscles in that chain of events don't do their job, writing will be a very hard thing to do.
The trim trail has been specifically designed to promote the development of upper body strength and improve gross and fine motor control.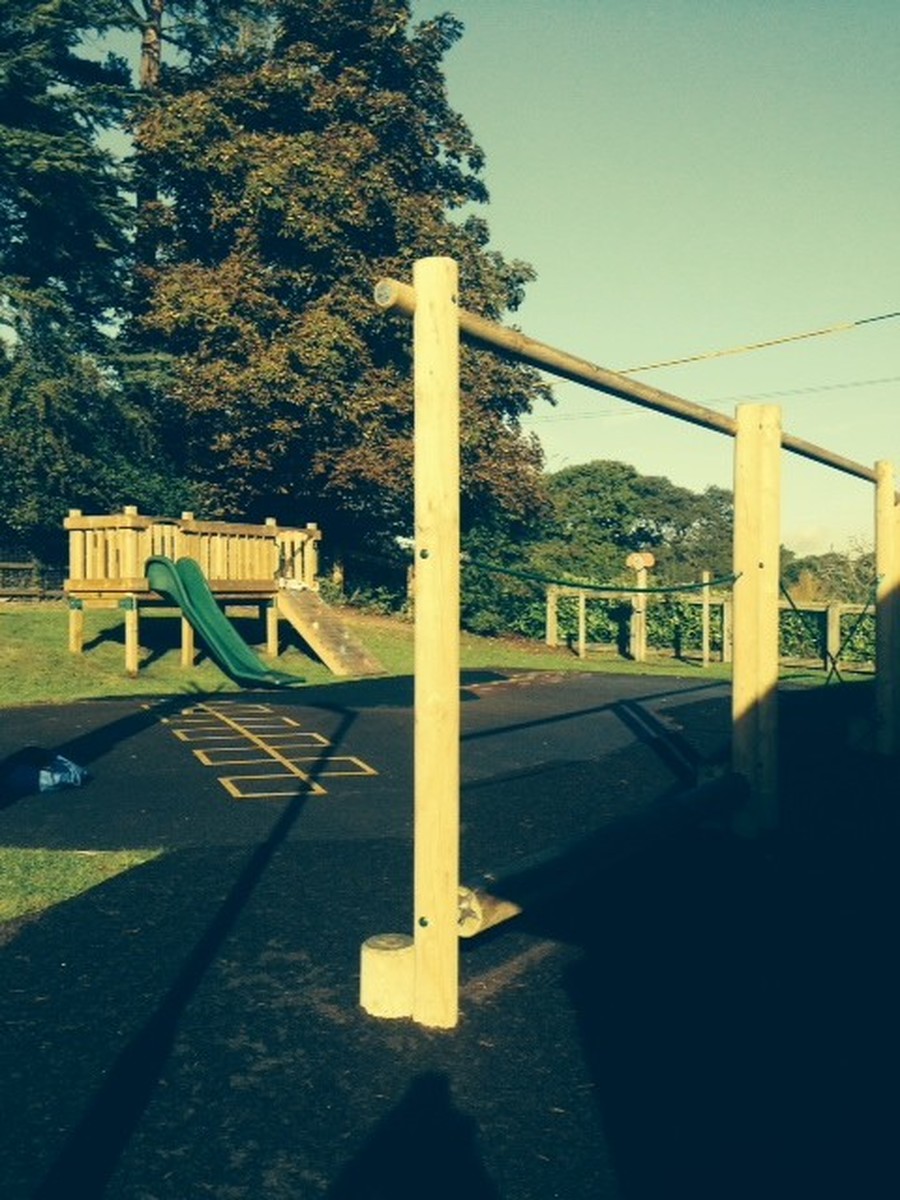 Improvements to Sports Day
We have to hold sports day at the local recreational ground due to a lack of space in school. Some of the funding has been spent to provide equipment to organise this event and improve the quality of the events offered.